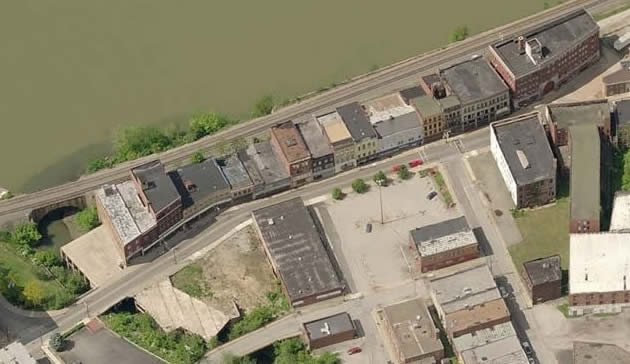 The Redevelopment Authority of the County of Fayette, PA (RACF), in conjunction with the Brownsville Borough, are now releasing a joint Request for Proposal (RFP) for developers interested in the redevelopment of the downtown Brownsville, Pennsylvania's Historic Commercial District. This is the next step in the Brownsville Borough Targeted Revitalization Initiative, aimed at aggressively addressing the blight in the Borough's downtown area.
Since 2008, the RACF, with the support of the Brownsville Borough, has secured a total of 28 abandoned and blighted properties. Combined, the two authorities now control the majority of the historic district's Market Street properties, with the intention attract new development. As many of these properties are contributing buildings the historic district, the RACF is inviting developers to submit plans to rehabilitate these properties and bring new development, both residential and commercial, to the downtown Brownsville community.
Based on a study conducted in 2012 - by the National Road Heritage Corridor, the Pennsylvania Historical and Museum Commission, and the Redevelopment Authority of the County of Fayette (RACF) - Brownsville's Historic District is well positioned for investment, and has the potential to provide excellent economic development opportunities for the community. Therefore, qualified, financially sound developers and/or individuals are invited to complete and submit the RFP with revitalization plans for one or more of the properties owned by the RACF.
Brownsville Developer Request for Proposal >> CLICK HERE
Appendix / Exhibit Items:
>> Click Each Link Below to open:
A - RACF Development Pro Forma and Financing Plan
B - RACF Developer Statement of Qualifications and Financial Responsibility
C - RACF Controlled Properties 1-1-2013
D - Map of RACF Controlled Properties 1-2013
F - RAFC Viewer Plans - Surveys
G - Brownsville Executive Summary August 2012
H - Brownsville Structure Study - July 2012
I - Brownsville Market Analysis - June 2012
J - Brownsville Commercial Historic District Design Guide
K - RACF Redevelopment Contract Sample
<< BACK TO SPECIAL PROJECTS >>